Yohoo Elec IV Series 6kw On Grid Solar Inverter
Introduction
This is a multi-function inverter, combining functions of inverter, solar charger and battery charger to offer uninterruptible power support in a single package. The comprehensive LCD display offers user-configurable and easy-accessible button operations such as battery charging current, AC or solar charging priority, and acceptable input voltage based on different applications.
Features
1. Pure sine wave inverter
2. Configurable input voltage ranges for home appliances and personal computers via LCD control panel
3. Configurable battery charging current based on applications via LCD control panel
4. Configurable AC/Solar Charger priority via LCD control panel
5. Compatible with utility mains or generator power
6. Auto restart while AC is recovering
7. Overload / Over temperature / short circuit protection
8. Smart battery charger design for optimized battery performance
9. Cold start function
10. Second output can be controlled by the battery voltage
Parameter
Rated Power (W)

6000W

AC INPUT

AC Voltage

230VAC

Voltage Range

170-280VAC(for personal computer)

90-280VAC(household appliances)

Frequency Range

50/60(Auto sensing)

AC OUTPUT

Surge Power

12000VA

Voltage Regulation (Battery Mode)

230VAC±5%

Rated Frequency

50/60Hz

Efficiency (Peak)

Up to 93.5%

Transfer Time

10ms(for personal computer)

20ms(household appliances)

SOLAR CHARGER and AC CHARGER

Maximum PV array open voltage (V)

500 VDC

Maximum PV Array Power

6000W

MPPT Voltage Range (V)

60-450 VDC

Maximum Input Current

27A

MPPT Tracker/Strings

1

Maximum Solar Charge Current

120A

Maximum AC Charge Current

100A

Maximum Charge Current

120A

BATTERY

Battery Voltage

48 VDC

Floating Charge Voltage

54 VDC

Overcharge Protection

63 VDC

Battery Type

Lithium /Lead-acid

PROTECTION & FEATURE

AC Overcurrent

YES

AC Overvoltage

YES

Over temperature Protection

YES

Smart Load Management

YES

On Grid

YES

Parallel Function

Yes(optional)

GENERAL PARAMTER

Operating Temperature

0°C~ 50°C

Relative Humidity

0 ~95%(non-condensing)

Altitude

(>2,000m Derating)

Dimensions, D*W*H(mm)

434*311*126.5

Net Weight (KG)

9

Display and Communication

Display

Touch buttons

Interface

Standard:RS485,RS232,CAN;

Optional: Wifi,Bluetooth

Safety Standard

EN/IEC 62109-1,EN/IEC 62109-2
Product Overview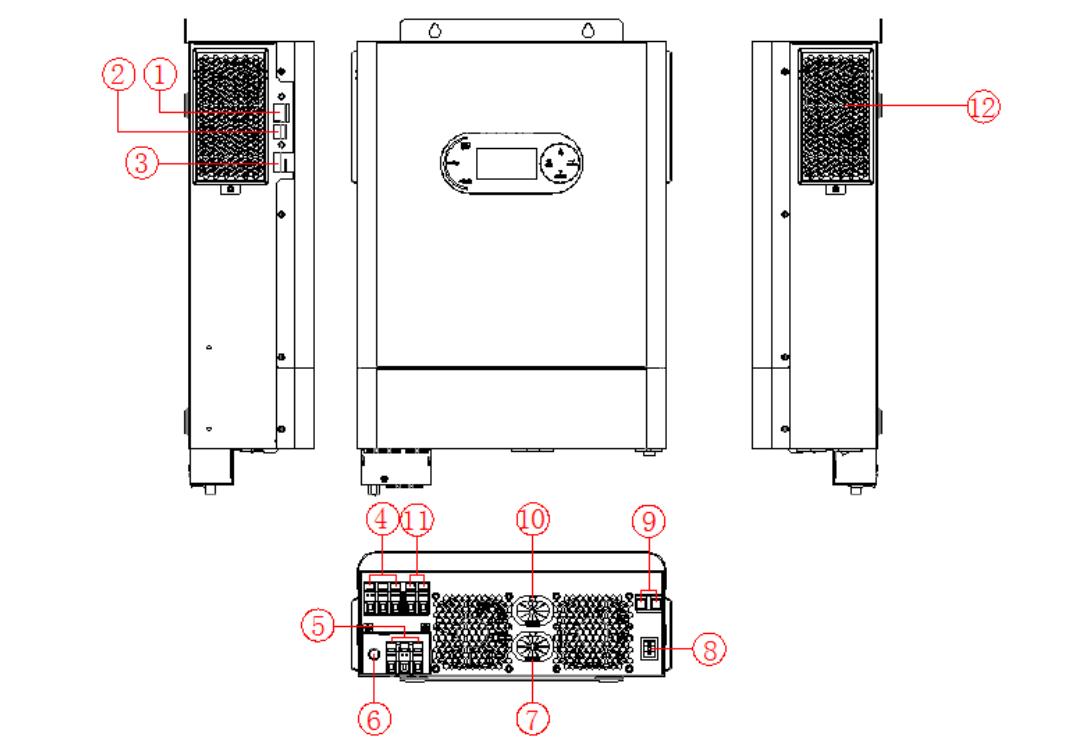 1. RS-232/RS485/CAN Communication Port
2. USB Communication Port
3. Dry Contact Connector
4.AC Output 1 Terminal
5. AC Input Terminal
6. AC Input Breaker
7. Battery Input 1
8. Power On/off Switch
9. PV Input Terminal
10. Battery Input 2
11. AC Output 2 Terminal
12. Dust Cover
Basic System Architecture
The following illustration shows the basic application of this unit. It also required the following devices to have a complete running system:
Ÿ Generator or Utility mains.
Ÿ PV modules
Consult with your system integrator for other possible system architectures depending on your requirements. This inverter can power various appliances in a home or office environment, including motor-type appliances, such as tube lights, fans, refrigerator,s and air conditioners.